Damon Motorcycles Electric Hypersport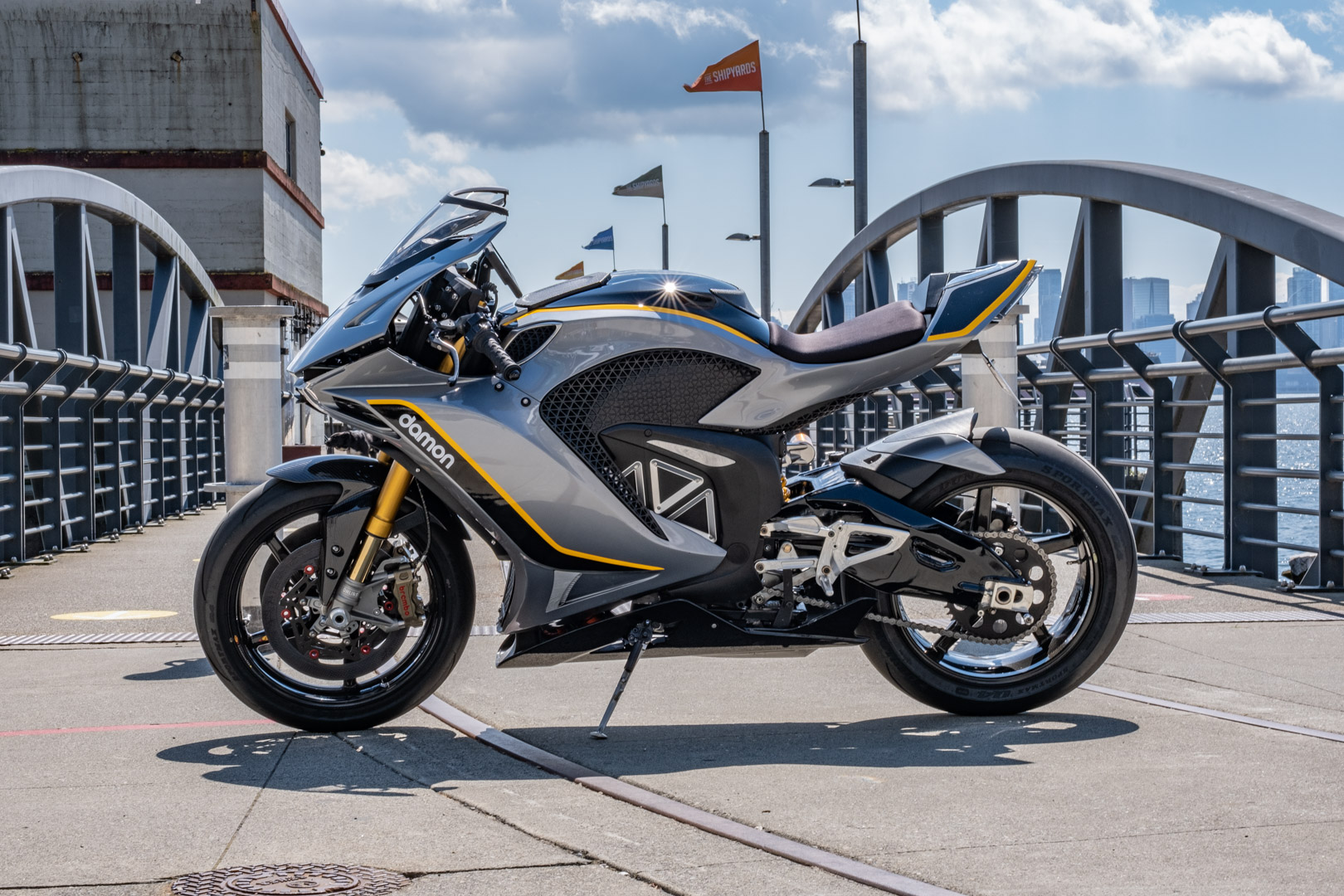 The team at Damon Motorcycles set out to engineer and develop a game-changing motorcycle that would not only affect the motorcycle rider directly but also indirectly affect the entire motorcycle industry, from ground-breaking engineering designs to the disruptive technologies they have created and implemented to allow their motorcycles to become a lot more than just a motorcycle. "The only way to bring a paradigm shift in motorcycle safety is through disruptive technology. At the core of our vision is hyperdrive"
Jay Giraud co-founded Damon Motorcycles with Dom Kwong in 2016 after suffering an unfortunate accident in Jakarta, it is at that moment that Jay recognized the need for advancements in technologies for the motorcycle space and began their journey to creating a game-changing product. When Damon Motorcycles and their team set out to create a motorcycle that could help reduce accidents, they recognized the faults of current motorcycles and the abilities new technologies possessed to help render these problems nonexistent, by utilizing AI technologies and motorcycle collision technologies they can create a fluid platform that allows the motorcycle to help the rider see accidents before they may see the accidents themselves.
Damon Motorcycles could have stopped producing AI technology that will help reduce accidents, but they chose to further engineer their electric motorcycle design by incorporating breakthrough battery technologies, motor technologies as well as chassis technologies. With a goal in mind of producing a well-rounded safety heavy performance motorcycle, Damon Motorcycles and their team pushed forwards into the most competitive motorcycle segment of them all, The Hyper sports segment, competing against the likes of Ducati, Yamaha, Aprilia, and Yamaha. This is so small feat for a motorcycle manufacturer to tackle safety technologies, performance technologies, electric drive train technologies all while starting a company from scratch but here we are writing an article on arguably one of the most disruptive motorcycles to come into the market in the last decade. *Cue the Damon Motorcycles fist bump*
Damon Motorcycle offers a range of performance models all based on the same chassis with varying performance and technologies. All of their current models in their line up used their patented technology "Hyperdrive", this is a one-stop-shop based "multi-variant powertrain" with models ranging from 85 kW to 150 kW, for you old school gassers that more than 200bhp that's not to mention the fact is has more than 235nm of torque which is completely unheard of in petrol-powered motorcycles in the hyper sports group… yes you read that right an electric motorcycle with over 200 bhp. Proof that implementing new technologies into old concepts will breathe fresh air into an old stale product. Aside from the astounding amount of power these motorcycles can produce they are also focusing heavily on weight reduction and taking a cue from the petrol industry by using the hyperdrive as a dual-purpose structural component thus allowing the motorcycle to drop a substantial amount of weight that would typically be accumulated from a corresponding frame.
Aside from the performance engineering built into their models, Daman motorcycles have focused heavily on safety and designed a well-rounded electronics package that helps make the operator more aware of their surroundings by alerting them both visually and audibly through a variety of alerts, the motorcycle stays aware of a 360 degree surrounding and has the 4k camera's front and rear on at all times as well as physical alerts built into the handlebars so even when you forget to check your back Damon Motorcycles has it for you.
Another interesting to note is the lack of comfort the hyper sport segment posses, with no current companies taking comfort into consideration as performance has always been the first consideration Damon Motorcycles and their team has created an adjustable on the fly system you can operate from your handlebars that allows you to choose between sport and commuter settings allowing the handlebars and rear sets to adjust accordingly so you can tuck and go at the track and sit up and relax for the long haul.
Marc Marquez Dazzles with Ducati Debut: MotoGP Valencia Test
In a thrilling display of skill at the MotoGP Valencia Test, Maverick Vinales emerged as the frontrunner, showcasing his prowess on the Aprilia RS-GP. Completing a remarkable 86 laps, Vinales clinched the fastest lap of 1:29.253. His performance outpaced Brad Binder by a mere 0.028 seconds and left Marco Bezzecchi in third, only 0.065 seconds adrift.
Marc Marquez dazzles once again, this time making his much-anticipated debut on the Ducati Desmocedici GP23. The atmosphere at the Gresini Racing Ducati garage was electric, with everyone eager to witness Marquez's first circuit run. Marquez quickly adapted to his new bike, initially securing third place and later advancing to a lap time of 1:29.424 on his 46th lap, finishing a close fourth, only 0.171 seconds behind the leader.
Raul Fernandez made an impressive debut on the 2023 Aprilia RS-GP, taking fifth place, while Alex Marquez, on his first ride with the GP23 Desmocedici, came in sixth. Both riders demonstrated a seamless transition to their new bikes, having competed on last year's models during the 2023 season.
Fabio Di Giannantonio's first outing with the Mooney VR46 Racing Ducati team saw him navigating the GP23, joining the likes of Enea Bastianini, Jack Miller, and Luca Marini, who completed the top 10. Marini, in particular, completed an impressive 72 laps in his debut as a Repsol Honda rider.
Pecco Bagnaia, the reigning champion fresh from his Valencia GP victory, expressed optimism about the GP24 Desmocedici, finishing 11th. Fabio Quartararo and Joan Mir followed closely, while Augusto Fernandez and Jorge Martin rounded out the top 15, despite Martin experiencing two crashes.
Franco Morbidelli, now with Pramac Racing Ducati, closely trailed the 2023 runner-up, while Johann Zarco, transitioning to LCR Honda, overcame a crash to place 17th.
MotoGP newcomer Pedro Acosta quickly adapted to the GASGAS Tech RC16, displaying skill that caught many eyes. Marc Marquez dazzles in debut and Acosta's impressive handling were among the day's highlights. Acosta completed the test with a best lap-time of 1:30.476 after 70 laps.
Alex Rins, in his new role as a Monster Energy Yamaha rider, and Cal Crutchlow, only 0.201 seconds behind, showed promise. The day concluded with Takaaki Nakagami, Aleix Espargaro, who retired early due to an injury, and Lorenzo Savadori completing the timesheets.
The excitement that comes with purchasing a new motorcycle is unparalleled. But, like a budding relationship, it needs nurturing at the start. Our comprehensive guide on "Motorcycle Break-In Tips" serves as a roadmap to forge this bond, ensuring optimal performance and extended lifespan for your two-wheeled companion.
The Science Behind Break-Ins
The term 'break-in' might sound somewhat informal, but it's rooted in precise mechanical science and principles that every motorcyclist should understand.
Microscopic Imperfections
When engine components are manufactured, they undergo machining processes that leave behind tiny imperfections. These irregularities aren't typically visible to the naked eye, but they play a significant role in the early life of an engine. The break-in period allows these microscopic rough spots to smooth out through controlled wear, leading to better mating surfaces.
Piston Rings and Cylinder Walls
One of the most crucial aspects of the break-in process revolves around the piston rings. These rings need to seat perfectly against the cylinder walls. A successful seating ensures optimal compression, reduces oil consumption, and prevents exhaust gases from sneaking into the crankcase. The break-in phase facilitates this by allowing the high spots on both the piston rings and cylinder walls to wear down, leading to a perfect seal.
Lubrication Dynamics
During the break-in period, the manner in which oil circulates and coats the engine components establishes a pattern. Proper break-in ensures that this lubrication process is efficient, reducing the chances of hotspots or areas of excessive wear in the future.
Metal Wear and Oil Contamination
As the engine runs during its early hours, the wearing down of these microscopic high spots produces minute metal particles. These particles contaminate the engine oil. This is one of the primary reasons why the first oil change after the break-in period is crucial. It helps remove this contaminated oil, ensuring the engine runs on fresh, clean lubrication as it transitions out of its break-in phase.
Stress Distribution
Engines undergo varying degrees of thermal and mechanical stress. By gently breaking in the engine, these stresses are evenly distributed across components. An uneven stress distribution can lead to localized weak points, which might become problematic in the long run.
In essence, the break-in process is a finely choreographed dance of metal surfaces wearing in harmoniously. It's an exercise in patience and precision, ensuring that every subsequent mile on your motorcycle is as perfect as the engineering that went into crafting it. By understanding this science, riders appreciate the importance of those initial miles and are better equipped to care for their motorcycles in the long term.
Importance of the Break-In Phase
The break-in phase is often viewed by new riders as a period of restraint, where they can't fully unleash the power of their new motorcycle. While this perspective holds some truth, understanding the profound importance of this phase can radically change how one views these initial miles. Here's a deeper exploration:
1. Longevity of Engine Components
Properly breaking in your motorcycle ensures that engine components have time to settle into their operational roles. This settling process reduces the likelihood of premature wear and tear. When done correctly, the break-in phase can significantly extend the lifespan of the motorcycle's engine, giving you more reliable years on the road.
2. Ensuring Peak Performance
A motorcycle that's been correctly broken in tends to run smoother and more efficiently. When engine parts, especially the piston rings and cylinder walls, have seated well, the motorcycle achieves optimal compression ratios, ensuring the engine delivers the maximum power it's designed to produce.
3. Oil Consumption
Engines that haven't been appropriately broken in can sometimes consume more oil than usual. Proper seating of the piston rings, as mentioned earlier, ensures minimal oil consumption and fewer trips to the service station for top-ups.
4. Fuel Efficiency
The break-in phase also has implications for the fuel efficiency of the bike. A well-seated engine, with all its components functioning harmoniously, will often yield better fuel consumption rates, saving the rider money and ensuring longer rides between fuel stops.
5. Reduced Maintenance Costs
An engine that's undergone a proper break-in phase is less likely to present issues down the road. This translates to fewer visits to the mechanic, reduced chances of major overhauls, and a decrease in maintenance costs over the bike's lifespan.
6. Resale Value
Motorcycles that have been correctly broken in and maintained tend to hold their value better in the resale market. Prospective buyers often enquire about the break-in process, and ensuring it's been done right can be a selling point.
7. Enhanced Rider Experience
Beyond the technical and financial aspects, there's an intangible benefit to a properly broken-in bike: the ride experience. A well-maintained engine runs smoother, vibrates less, and delivers power more linearly, all of which contribute to a more enjoyable and immersive riding experience.
Navigating the Initial Miles
Often referred to as the "honeymoon period" by seasoned riders, the initial miles of a motorcycle are a unique window of mutual adaptation for both the bike and its rider. As you embark on this journey, understanding the objectives of the break-in process is paramount.
Contrary to the common misconception that during the break-in phase, the bike should be kept at a minimal RPM, it's essential to vary the engine speeds. This not only ensures that different parts of the engine become adequately seasoned but also means that the motorcycle shouldn't be kept at a constant speed or RPM for extended periods.
It's equally important to be mindful of the motorcycle's load during this time. Whether it's an eager friend wanting a back ride or a weekend's worth of luggage, carrying heavy loads can exert unnecessary stress on the engine, suspension, and tires before they have been adequately broken in.
Engine braking, often overlooked, can be a valuable ally in these early stages. Opting to utilize engine braking over aggressive use of the bike's brake system not only conserves brake pad life but subtly assists in the wear-in of various engine components.
Temperature plays a pivotal role, especially for air-cooled engines. Ensuring the bike remains in optimal temperature ranges and doesn't overheat during the break-in is paramount. A motorcycle operating at too high a temperature can have its metal components expand unevenly, leading to potential long-term engine complications. If there's a sense that the engine is becoming excessively hot, it's wise to take a break and allow it to cool.
The break-in period is also a prime opportunity for riders to acquaint themselves with the motorcycle's dynamics, handling, and unique characteristics. With each ride, gentle exploration and a touch of cautious boundary-pushing can help deepen this bond. Lastly, it's beneficial to be selective about terrain during the initial miles, favoring smoother roads to ensure the suspension and other bike components settle in without unexpected shocks.
Motorcycle Break-In
DO Vary Your Speed and RPM: Maintain different speed ranges rather than sticking to a consistent speed. It ensures different parts of the engine bed in properly.
DO Monitor Oil Levels and Quality: The initial phase may witness metallic shavings in the oil. Keep an eye on the oil's color and consistency. Early oil changes can be beneficial.
DON'T Lug the Engine: Avoid running the engine below the recommended RPM as it can cause unnecessary strain.
DON'T Overheat: Ensure the motorcycle doesn't overheat. Give it regular breaks on longer rides.
DO Warm-Up Your Bike: Especially important in the initial miles, warming up ensures that the oil reaches all engine components.
DON'T Avoid the Throttle: While aggressive riding is discouraged, gentle acceleration and deceleration during rides promote better engine wear.
Aftercare: Post Break-In
Once the initial phase is complete, it's not a green signal to thrash your bike around. Here's what you should do post break-in:
First Service: The first post break-in service is crucial. Oil changes, chain adjustments, and overall check-ups ensure the bike's longevity.
Continue Observing: Even after the break-in, monitor the motorcycle's performance, noises, or any unusual signs.
Stay Regular with Maintenance: After the break-in, regular maintenance keeps the bike in top shape. Always adhere to the manufacturer's service recommendations.
Breaking in a motorcycle might seem tedious, but it's a labor of love. By adopting the right "Motorcycle Break-In Tips," you're not just ensuring optimal performance but also forging a bond with your motorcycle. It's the foundation of a relationship that promises countless adventures, thrilling rides, and unending roads. A little patience during these initial miles guarantees years of pure motorcycling joy.
Understanding and Replacing Motorcycle Clutch
The clutch is an indispensable component of your motorcycle, integral to its overall performance. It acts as a bridge between the engine and the transmission, facilitating smooth gear transitions and efficient power delivery. Understanding and replacing a motorcycle clutch is crucial, as a well-maintained clutch ensures that you experience seamless rides. However, like all mechanical parts, it undergoes wear and tear over time and might need replacement. In this guide, we'll provide comprehensive insights into the nuances of the motorcycle clutch, from its functionality to the signs it's time for a change, ensuring you're well-equipped to handle any clutch-related issues.
What is a Motorcycle Clutch?
The clutch is a complex mechanism that temporarily disconnects the engine from the transmission, allowing the rider to change gears. When you pull the clutch lever, you disconnect the engine's power, and when you release it, the power is reconnected. It comprises multiple friction plates stacked together in a clutch basket, working in unison to transfer power efficiently.
Signs Your Clutch Needs Replacement
A malfunctioning clutch can drastically affect your motorcycle's performance and safety. Here are expanded details on the signs that your clutch might be reaching its end:
Slipping Clutch: One of the most common symptoms of a worn-out clutch. If your motorcycle's engine revs unusually high before achieving a corresponding increase in speed, the clutch might be slipping. This issue can stem from reduced friction due to worn-out clutch plates or a weak clutch spring.
Hard Clutch: A clutch lever that feels stiff or harder to pull than usual can be an indicator of a worn clutch cable or damaged clutch plates. The lever might also feel notchy or inconsistent when pulled in.
Noisy Clutch: If you start hearing unusual sounds, like grinding or squealing, when the clutch is engaged or disengaged, it's a sign of possible internal damage or misalignment. These noises might also point towards damaged bearings or a warped clutch basket.
Poor Acceleration: When the motorcycle doesn't pick up speed in accordance with the revving of the engine, the clutch might be failing to transfer power efficiently from the engine to the wheels.
Difficulty Shifting Gears: Struggling to change gears, especially without hearing grinding noises, can be a sign that the clutch isn't fully disengaging, making it hard to shift.
Chattering or Jerky Movement: If your motorcycle moves jerkily when you release the clutch in first gear, it's often termed as 'clutch chattering'. This can result from oil contamination or warped friction plates.
Visible Damage or Contamination: During regular motorcycle maintenance, if you spot oil or any fluid contamination around the clutch area, or visibly damaged clutch plates or springs upon inspection, it's a telltale sign of the need for immediate attention.
It's worth noting that while these signs suggest a clutch issue, they can also be indicative of other problems. Hence, if you experience any of these symptoms, a comprehensive inspection by a professional or an experienced rider is recommended.
Steps to Replace Your Motorcycle Clutch
Prepare Your Workspace: Ensure you have a clean and well-lit area, preferably with a motorcycle stand. Gather necessary tools and parts.
Drain the Oil: Before accessing the clutch, drain the engine oil to avoid any spillage.
Remove the Clutch Cover: Unscrew and carefully take off the clutch cover. This will expose the clutch assembly.
Unfasten the Clutch Plates: Using appropriate tools, remove the clutch springs and then the clutch plates.
Inspect & Replace: Check the old plates for wear or damage. Replace with new plates, ensuring they're soaked in motorcycle oil before installation.
Reassemble: Place the new plates in the same order as they were removed. Tighten the springs evenly.
Refill Oil & Test: Fill the engine with the recommended oil. Test the motorcycle by starting it and trying different gears.
Choosing the Right Clutch Replacement
Selecting the appropriate clutch for your motorcycle is paramount, not only for optimal performance but also for safety. Here are some key factors and considerations:
Compatibility: Before diving into features or brands, ensure the clutch is compatible with your motorcycle's make and model. Even slight variations can lead to operational issues.
Type of Riding:

Street Riding: For everyday commuting or city rides, you'll want a durable clutch that provides smooth engagement.
Racing: Racing demands clutches that can handle high friction, quick shifts, and extreme temperatures. Consider performance clutches designed specifically for racing environments.
Touring: Long-distance rides require a clutch that offers comfort, especially in terms of easy lever pull and smooth engagement.

Material: Clutch plates come in a variety of materials, each offering distinct advantages:

Organic: Suitable for general street riding, offering smooth engagement and quieter operation.
Kevlar: Extremely durable and heat resistant, ideal for high-performance scenarios.
Ceramic: Offers the best heat dissipation but can be abrasive on the flywheel over time.
Sintered Iron: Often used in racing due to its ability to handle high temperatures and provide sharp engagement.

Spring Tension: A clutch's spring tension affects the feel at the lever. Heavier springs offer a more direct feel but require more force to operate, while lighter springs make for easier lever pull at the cost of a slightly vague engagement feel.
Brands and Reviews: There are several reputable clutch manufacturers in the market. Once you've determined the type and material you need, look into brands known for quality in that category. Read reviews, seek recommendations from fellow riders, or consult mechanics who've had firsthand experience with various brands.
Installation: Some clutch kits are easier to install than others. If you're a DIY enthusiast, look for kits that come with comprehensive installation guides or videos. If you're leaning towards a professional installation, factor in the labor costs as well.
Warranty and Support: A clutch is a critical component, and you want to be backed by a solid warranty. Opt for brands that offer substantial warranties and have a reputation for excellent customer support.
In essence, while price is an important factor, don't skimp on quality. Your motorcycle's clutch is vital for safe and efficient operation, so invest in a replacement that aligns with your riding needs and offers long-term reliability.
Regular Maintenance for Longer Clutch Life
While the clutch will inevitably wear out over time, regular maintenance can extend its life. Regularly check the clutch cable for any wear and adjust the clutch lever for optimal performance. Periodically change the engine oil as dirty oil can accelerate clutch wear.
Conclusion
Understanding and replacing a motorcycle clutch is a vital skill every motorcyclist should be equipped with. While the process might appear intricate initially, with the right tools and guidance, it becomes a straightforward task. A well-maintained clutch not only enhances the performance of your motorcycle but also guarantees you a safer and smoother ride. Embracing the essence of understanding and replacing a motorcycle clutch ensures you are always ahead in terms of maintenance. Regular inspections and timely interventions can make all the difference, allowing you to relish an unmatched and uninterrupted biking journey.