Damon Motorcycles Electric Hypersport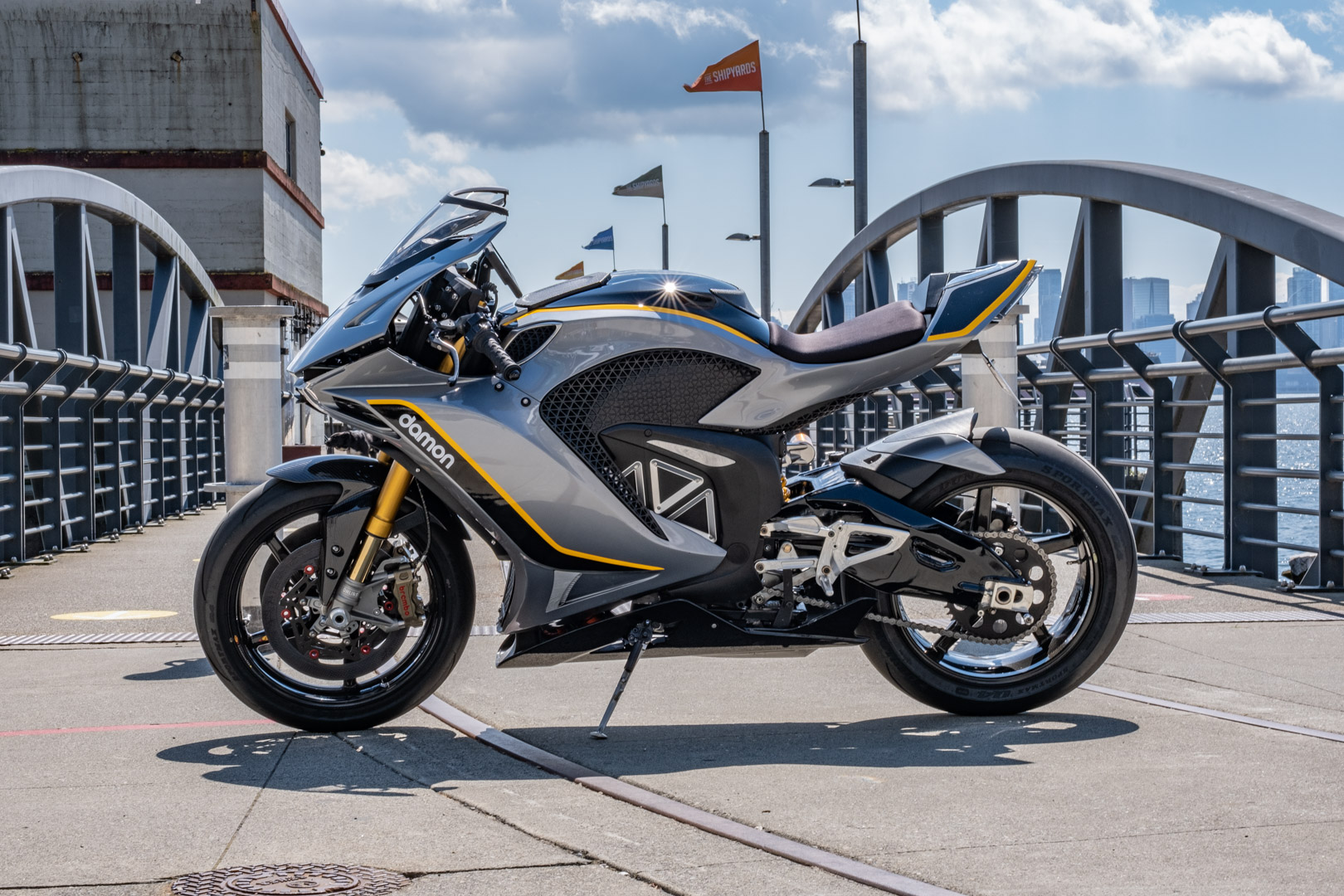 The team at Damon Motorcycles set out to engineer and develop a game-changing motorcycle that would not only affect the motorcycle rider directly but also indirectly affect the entire motorcycle industry, from ground-breaking engineering designs to the disruptive technologies they have created and implemented to allow their motorcycles to become a lot more than just a motorcycle. "The only way to bring a paradigm shift in motorcycle safety is through disruptive technology. At the core of our vision is hyperdrive"
Jay Giraud co-founded Damon Motorcycles with Dom Kwong in 2016 after suffering an unfortunate accident in Jakarta, it is at that moment that Jay recognized the need for advancements in technologies for the motorcycle space and began their journey to creating a game-changing product. When Damon Motorcycles and their team set out to create a motorcycle that could help reduce accidents, they recognized the faults of current motorcycles and the abilities new technologies possessed to help render these problems nonexistent, by utilizing AI technologies and motorcycle collision technologies they can create a fluid platform that allows the motorcycle to help the rider see accidents before they may see the accidents themselves.
Damon Motorcycles could have stopped producing AI technology that will help reduce accidents, but they chose to further engineer their electric motorcycle design by incorporating breakthrough battery technologies, motor technologies as well as chassis technologies. With a goal in mind of producing a well-rounded safety heavy performance motorcycle, Damon Motorcycles and their team pushed forwards into the most competitive motorcycle segment of them all, The Hyper sports segment, competing against the likes of Ducati, Yamaha, Aprilia, and Yamaha. This is so small feat for a motorcycle manufacturer to tackle safety technologies, performance technologies, electric drive train technologies all while starting a company from scratch but here we are writing an article on arguably one of the most disruptive motorcycles to come into the market in the last decade. *Cue the Damon Motorcycles fist bump*
Damon Motorcycle offers a range of performance models all based on the same chassis with varying performance and technologies. All of their current models in their line up used their patented technology "Hyperdrive", this is a one-stop-shop based "multi-variant powertrain" with models ranging from 85 kW to 150 kW, for you old school gassers that more than 200bhp that's not to mention the fact is has more than 235nm of torque which is completely unheard of in petrol-powered motorcycles in the hyper sports group… yes you read that right an electric motorcycle with over 200 bhp. Proof that implementing new technologies into old concepts will breathe fresh air into an old stale product. Aside from the astounding amount of power these motorcycles can produce they are also focusing heavily on weight reduction and taking a cue from the petrol industry by using the hyperdrive as a dual-purpose structural component thus allowing the motorcycle to drop a substantial amount of weight that would typically be accumulated from a corresponding frame.
Aside from the performance engineering built into their models, Daman motorcycles have focused heavily on safety and designed a well-rounded electronics package that helps make the operator more aware of their surroundings by alerting them both visually and audibly through a variety of alerts, the motorcycle stays aware of a 360 degree surrounding and has the 4k camera's front and rear on at all times as well as physical alerts built into the handlebars so even when you forget to check your back Damon Motorcycles has it for you.
Another interesting to note is the lack of comfort the hyper sport segment posses, with no current companies taking comfort into consideration as performance has always been the first consideration Damon Motorcycles and their team has created an adjustable on the fly system you can operate from your handlebars that allows you to choose between sport and commuter settings allowing the handlebars and rear sets to adjust accordingly so you can tuck and go at the track and sit up and relax for the long haul.
Top 5 Motorcycle Safety Innovations
Top 5 Motorcycle Safety Innovation's
Let's dive into what we consider to be the Top 5 most important motorcycle safety innovations. As we all know by now, no amount of technology exists to completely overcome the downfall of being human. Some variables we are currently capable of overcoming, some we are not. For variables we are not able to overcome, it's necessary that we have a very effective solution in the untimely event of a motorcycle accident. This brings us to the #1 and #2 of The Top 5 Motorcycle Safety Innovations.
#1 of Top 5 Motorcycle Safety Innovation's- Air Bag Protective Gear
Airbag motorcycle riding gear made its first mainstream public appearance in 2007. Worn by many professional MotoGP motorcycle racers as adapted technologies. It was not made mandatory until 2018 when MotoGP unanimously decided all racers needed to wear level 2 airbag-equipped racing suits.
Airbag riding gear was introduced in 2009 in horseback racing. The rider's vest had a tether mounted to the saddle of the horse which would initiate the co2 cartridge resulting in the airbag vest deploying in roughly 100-250 milliseconds. Initial studies showed a 69% reduction of injuries in dismounted riders. Solidifying the technology's place in open-cockpit sports.
Airbag systems are available in tethered and sensor-activated versions as well as vests and built-in airbag systems. With different options and variations available from all of the major motorcycle safety gear manufacturers. This in part is the reason airbag systems are a Top 5 Safety Innovation.
#2 of Top 5 Motorcycle Safety Innovation's – Smart Helmet Technologies
Motorcycle helmets are a well-rounded technology by now, no pun intended. But what if we told you that the innovations have never stopped despite the simplicity of the idea not varying very much.  Sometimes the devil is in the details, in helmet cases, the details are not so devilish.
Smart helmets are becoming available more regularly now. Giving way to hope that we see the day AI and augmented reality are integrated. These technologies have stirred many industries, and caused a lot of chatter as to whether or not implementing them is beneficial to humanity. I would argue that in the case of motorcycle helmets it will prove to be the most beneficial safety measure since the helmet itself, placing smart helmets #2 of the Top 5 Safety Innovations.
Another technology motorcycle helmets will stand to benefit from in the future is the implementation of emergency response system's similar to OnStar. These systems would allow the helmet to notify emergency services without the consent of the rider in the case of a serious accident. Equipped with sensors capable of measuring the impact, better determining whether or not emergency services are necessary. In the case of loss of consciousness this technology will prove to be vital.
#3 of Top 5 Motorcycle Safety Innovation's – ABS and Stability Management
ABS and Stability management are not the new kids on the Motorcycle block for safety technologies. However, we consider them to still be in the top 5 with constant advancements resulting from endless refinements. Introduced in mass-produced motorcycles, BMW first made its appearance in 1988 on their K100 model motorcycle followed by Honda in 1992 on their ST1100.
ABS and traction control had been developed to help aid in low traction situations and emergency braking situations. From weather-related scenarios to performance-oriented goals. The longer the case study continues the better these technologies can be refined and implemented into today's motorcycles. Benefiting more and more riders by way of less and less unforeseen circumstances resulting in untimely accidents.
As these technologies have progressed Traction control would later be referred to as stability management, but not limited to. Implemented as a traction control system and a performance control device. Modern motorcycles now have systems with varying levels of effectiveness. The rider can choose the amount of "interference" the system is allowed to apply in the decision-making process. These systems have proven to be well worth their weight in gold over time helping prevent accidents from happening in a wide range of scenarios.
#4 of Top 5 Motorcycle Safety Innovation's – Vehicle to Vehicle Communication
Bosch, a leading manufacturer in electronic vehicle interface technologies, has begun producing a technology referred to as Vehicle-to-Vehicle Communications. This system between vehicles and motorcycles alike can exchange information with each other via direct communications. It works on a 5.9 GHz frequency band with a special configuration of wireless LAN standard. This information includes the type of vehicle, speed, position, and direction of travel. A vehicle can transmit this data up to ten times per second to the nearby environment. When the system detects a hazard from surrounding vehicles, it alerts the operator and in real-time either on the display or audible alerts. This helps to reduce the risk of potential accidents.
Stationary vehicles on the sides of the road will continue to emit their data. The other moving vehicles from both sides of the road exchange their data with a stationary vehicle. Acting as triggers only when the system detects the possibility of collision. Stationary and nonstationary vehicles are aware well in advance so that they have sufficient time to react accordingly.
These communications between vehicles and motorcycles stand to make driving on roads substantially safer. These technologies stand to make some major waves in our industry by way of increased accident reduction standards, Along with simple forms of integration into current management programming. Soon we will see motorcycles with features like this built right into the dash similar to the stability management systems we see today.
#5 of Top 5 Motorcycle Safety Innovations – Adaptive Headlights
Many companies have tried their hand at solutions for this pesky disappearing headlight issue. But none have done it better than BMW, trying their hand at this issue as early as 1980. BMW would later implement their first full production model in 2010 on the k1600gt. Early on BMW was toying with mirrors to no avail and would later try their hand at selectable led lighting.
Fast forward to 2020 and BMW has taken another stab at the issue with their latest rendition of Adaptive lighting. This time around BMW has designed the light to simultaneously use selectable led patterns as well as a motorized headlight assembly. This allows the computer to control the angle of the light beam based on the angle of lean the motorcycle is at.
BMW is not the only manufacturer producing adaptive lighting. There are manufacturers producing retrofit lights available aftermarket for a wide variety of motorcycles. These adapted technologies lack in comparison to BMW's current headlight technology. All current aftermarket adaptive lighting only utilizes selectable led's to help aid in the direction of the beam rather than having the ability to move the entire headlight assembly and adjust LED beam.
2021 Team Classic Suzuki Katana
Following a hiatus lasting over one year as a result of covid, Team Classic Suzuki has unveiled what they are deeming their "lockdown project" to which we at The Hardtail Feel cheers are in order. They have successfully brought current technologies and mated them with the styling we all love of the classic superbike era. Not only that but they did so with one of the era's most iconic motorcycles produced, The Katana. Though this might not be the first time the Team Classic Suzuki has tackled the Katana, one would argue that this is the best rendition to date.
The focus of this motorcycle is the drivetrain the team decided to use, straight out of the current Suzuki superbike right down to the same headers, the Team Classic Suzuki is nothing short of a superbike, quite literally. With more than 200bhp, this motorcycle is as stout as any current top superbikes available on the market today with figures competing against the likes of the current greats. The team has fitted an array of excellent aftermarket parts to the bike from Alstare superbike headers and factory team radiators and oil cooler to a full Yoshimura electronics management package.
They did not stop there; the bike is rolling on Dymag's new CH3 magnesium wheels which fit the classic look incredibly well. All that being stopped by Brembo's latest discs and calipers. The rear wheel is mounted to the chassis via a hand fabricated boxed aluminum swingarm. Nothing short of art. Along with a full superbike spec Ohlin's suspension, this bike promises to impress all.
Along with the incredible array of high-end parts, Team Classic Suzuki focused heavily on the body utilizing carbon fiber throughout and implementing a factory world superbike fuel tank. Basically, Team Classic Suzuki has built a superbike that is inspired by the looks of a generation nearly 3 decades old.
This bike exuberates style equally as much as it does performance and we at The Hardtail feel our readers will appreciate this as greatly as we do.
Harley-Davidson's Livewire
The Harley-Davidson Livewire brings about a revolutionary transition in the manufacturer's history, up until Livewire's release Harley-Davidson was not known for being the most innovative motorcycle manufacturer on the block. But that has all changed with their first introduction into the electric motorcycle offerings. Knowing full well the expectations of their customers and new customers alike Harley took on the task of creating a motorcycle that would be well-rounded, technologically advanced, and suited to the masses. Something one could argue Harley-Davidson has failed to do in the past. We are here to tell you, enthusiastically, that Harley-Davidson has gone above and beyond any of the industry's expectations of them. This bike is an entirely different realm for the company and they knocked it out of the park.
The Livewire's performance figures are staggering, with 0-60mph times of 3.5 seconds or less and a top speed of over 110 mph, it's safe to say this may be one of the fastest Harley's to date. Not only does the bike perform more closely to a sportbike than a Harley it also has better efficiency, which for all you millennial riders this will really tickle your fancy. Harley-Davidson claims a full charge will get you over 110 miles. Considering the competition at the moment these figures put Harley and their Livewire at the top of the segment.
Harley-Davidson did not stop there, they have a fully capable onboard electronic system with the ability to monitor the bike's and your performance. Along with security monitoring and the ability to send notifications to the owner's mobile device, this system will have you stepping away from your motorcycle with a level of comfort that few manufacturers are currently able to offer.
Despite Harley-Davidson pricing the Livewire at a sizzling MSRP of $30,000 we at Hardtail believe innovation often comes at a cost especially in the beginning. Very similar to how we saw Tesla first introduce their cars at what some would consider an inconceivable price point. Fast forward 10 years after this innovation has become mainstream, now the end consumer is lucky enough to enjoy competitive pricing and all the features of the electric segment. Despite the hefty price tag now, one can only assume as time moves forward we will see drastic price drops in the electric motorcycle sector, and equally as impressive performance improvements. Electric manufacturers have merely chipped the tip of the ice burg with battery and motor technologies. Large manufacturers like Harley-Davidson are exactly what the electric motorcycle sector needs to push forwards, and gain the traction and momentum it so desperately needs.
Harley-Davidson and their Livewire team did not stop there, under the 2020 "rewire" restructuring plan they have outlined plans to grow their electrification support alongside the growth of the Livewire brand. With plans to introduce installation across America, it is only a matter of time before we see this segment become as readily available as the current electric car industry.
With the looming electrification of just about everything under the sun, we see Livewire as being one of Harley-Davidson's smartest moves in the companies recent history. For too long the company has held onto the coattails of a passing generation expecting them to be carried into the future despite their customer base dropping like flies. If Livewire is a sign of what is to come for Harley-Davidson and the Livewire team then the future can not come fast enough.