LiquidPiston's Combustion Engine
Based out of Bloomfield, CT, Liquidpiston designs and develops compact, high efficiency, high power to weight, quiet, and low-vibration multi-fuel internal combustion engines. With a horsepower output range from 1hp to over 1000hp. The team continues to do R&D out of their very own state-of-the-art facilities specifically designed and tailored to creating their LiquidPiston engines.
Among many attributes these engines have, the first that comes to mind is the engine's award-winning efficiency. As EV vehicles progress combustion engines will naturally see a decreased demand. However, the team at LiquidPiston has created an innovative technology that may just prolong the life of internal combustion engines. It may appear to be loosely based on a rotary engine but the similarities end at the surface.
LiquidPiston's Combustion cycle –
At the heart of LiquidPiston's engine technology is the reason for its high power density. they have a proprietary combustion cycle call HEHC (High. Efficiency. Hybrid. Cycle).
Air is compressed to a high compression ratio, fuel is then injected and compression ignited (CI-HEHC). The X Mini utilizes a spark-ignition (SI-HEHC) version of the cycle with a lower compression ratio standard for gasoline engines.
A dwell near top-dead-center forces combustion to occur at nearly constant-volume conditions.
Combustion is over-expanded using a larger expansion volume than compression volume, as in the Atkinson Cycle.
Cycle-skipping power modulation allows high efficiencies while cooling the engine's walls and providing partial heat recovery. Water can be injected internally to cool the engine. Some of this cooling energy is recuperated, as the water turns to steam, increasing the chamber pressure.
LiquidPistons advantages –
These engines have many advantages, from reduced weight to reduced Engine manufacturing costs. The efficiency of the vehicle Goes up directly resulting from engine efficiency and the weight savings. Plus with the ability to run different fuel sources the carbon footprint of these engines becomes negligible.
LiquidPiston is currently doing R&D on their mini-x engine, a version they claim will weigh 3 pounds and produce over 5 hp at 15,000 RPM. The size of this engine would work well in the handheld combustion segment. Another current engine model in R&D is LiquidPiston's 40hp diesel engine. Weighing a fraction of its standard combustion counterpart.
conclusion – 
Time will tell whether or not LiquidPiston's engine is capable of the service intervals required by the riggers of day-to-day use, With durability testing currently underway
We can see how this engine design would thrive between the frame rails of a modern motorcycle. Our industry thrives on both the pursuit of power and weight loss to which LiquidPiston offers both, Efficiency being the bonus.
Top 5 Motorcycle Safety Innovations
Top 5 Motorcycle Safety Innovation's
Let's dive into what we consider to be the Top 5 most important motorcycle safety innovations. As we all know by now, no amount of technology exists to completely overcome the downfall of being human. Some variables we are currently capable of overcoming, some we are not. For variables we are not able to overcome, it's necessary that we have a very effective solution in the untimely event of a motorcycle accident. This brings us to the #1 and #2 of The Top 5 Motorcycle Safety Innovations.
#1 of Top 5 Motorcycle Safety Innovation's- Air Bag Protective Gear
Airbag motorcycle riding gear made its first mainstream public appearance in 2007. Worn by many professional MotoGP motorcycle racers as adapted technologies. It was not made mandatory until 2018 when MotoGP unanimously decided all racers needed to wear level 2 airbag-equipped racing suits.
Airbag riding gear was introduced in 2009 in horseback racing. The rider's vest had a tether mounted to the saddle of the horse which would initiate the co2 cartridge resulting in the airbag vest deploying in roughly 100-250 milliseconds. Initial studies showed a 69% reduction of injuries in dismounted riders. Solidifying the technology's place in open-cockpit sports.
Airbag systems are available in tethered and sensor-activated versions as well as vests and built-in airbag systems. With different options and variations available from all of the major motorcycle safety gear manufacturers. This in part is the reason airbag systems are a Top 5 Safety Innovation.
#2 of Top 5 Motorcycle Safety Innovation's – Smart Helmet Technologies
Motorcycle helmets are a well-rounded technology by now, no pun intended. But what if we told you that the innovations have never stopped despite the simplicity of the idea not varying very much.  Sometimes the devil is in the details, in helmet cases, the details are not so devilish.
Smart helmets are becoming available more regularly now. Giving way to hope that we see the day AI and augmented reality are integrated. These technologies have stirred many industries, and caused a lot of chatter as to whether or not implementing them is beneficial to humanity. I would argue that in the case of motorcycle helmets it will prove to be the most beneficial safety measure since the helmet itself, placing smart helmets #2 of the Top 5 Safety Innovations.
Another technology motorcycle helmets will stand to benefit from in the future is the implementation of emergency response system's similar to OnStar. These systems would allow the helmet to notify emergency services without the consent of the rider in the case of a serious accident. Equipped with sensors capable of measuring the impact, better determining whether or not emergency services are necessary. In the case of loss of consciousness this technology will prove to be vital.
#3 of Top 5 Motorcycle Safety Innovation's – ABS and Stability Management
ABS and Stability management are not the new kids on the Motorcycle block for safety technologies. However, we consider them to still be in the top 5 with constant advancements resulting from endless refinements. Introduced in mass-produced motorcycles, BMW first made its appearance in 1988 on their K100 model motorcycle followed by Honda in 1992 on their ST1100.
ABS and traction control had been developed to help aid in low traction situations and emergency braking situations. From weather-related scenarios to performance-oriented goals. The longer the case study continues the better these technologies can be refined and implemented into today's motorcycles. Benefiting more and more riders by way of less and less unforeseen circumstances resulting in untimely accidents.
As these technologies have progressed Traction control would later be referred to as stability management, but not limited to. Implemented as a traction control system and a performance control device. Modern motorcycles now have systems with varying levels of effectiveness. The rider can choose the amount of "interference" the system is allowed to apply in the decision-making process. These systems have proven to be well worth their weight in gold over time helping prevent accidents from happening in a wide range of scenarios.
#4 of Top 5 Motorcycle Safety Innovation's – Vehicle to Vehicle Communication
Bosch, a leading manufacturer in electronic vehicle interface technologies, has begun producing a technology referred to as Vehicle-to-Vehicle Communications. This system between vehicles and motorcycles alike can exchange information with each other via direct communications. It works on a 5.9 GHz frequency band with a special configuration of wireless LAN standard. This information includes the type of vehicle, speed, position, and direction of travel. A vehicle can transmit this data up to ten times per second to the nearby environment. When the system detects a hazard from surrounding vehicles, it alerts the operator and in real-time either on the display or audible alerts. This helps to reduce the risk of potential accidents.
Stationary vehicles on the sides of the road will continue to emit their data. The other moving vehicles from both sides of the road exchange their data with a stationary vehicle. Acting as triggers only when the system detects the possibility of collision. Stationary and nonstationary vehicles are aware well in advance so that they have sufficient time to react accordingly.
These communications between vehicles and motorcycles stand to make driving on roads substantially safer. These technologies stand to make some major waves in our industry by way of increased accident reduction standards, Along with simple forms of integration into current management programming. Soon we will see motorcycles with features like this built right into the dash similar to the stability management systems we see today.
#5 of Top 5 Motorcycle Safety Innovations – Adaptive Headlights
Many companies have tried their hand at solutions for this pesky disappearing headlight issue. But none have done it better than BMW, trying their hand at this issue as early as 1980. BMW would later implement their first full production model in 2010 on the k1600gt. Early on BMW was toying with mirrors to no avail and would later try their hand at selectable led lighting.
Fast forward to 2020 and BMW has taken another stab at the issue with their latest rendition of Adaptive lighting. This time around BMW has designed the light to simultaneously use selectable led patterns as well as a motorized headlight assembly. This allows the computer to control the angle of the light beam based on the angle of lean the motorcycle is at.
BMW is not the only manufacturer producing adaptive lighting. There are manufacturers producing retrofit lights available aftermarket for a wide variety of motorcycles. These adapted technologies lack in comparison to BMW's current headlight technology. All current aftermarket adaptive lighting only utilizes selectable led's to help aid in the direction of the beam rather than having the ability to move the entire headlight assembly and adjust LED beam.
Damon Motorcycles Electric Hypersport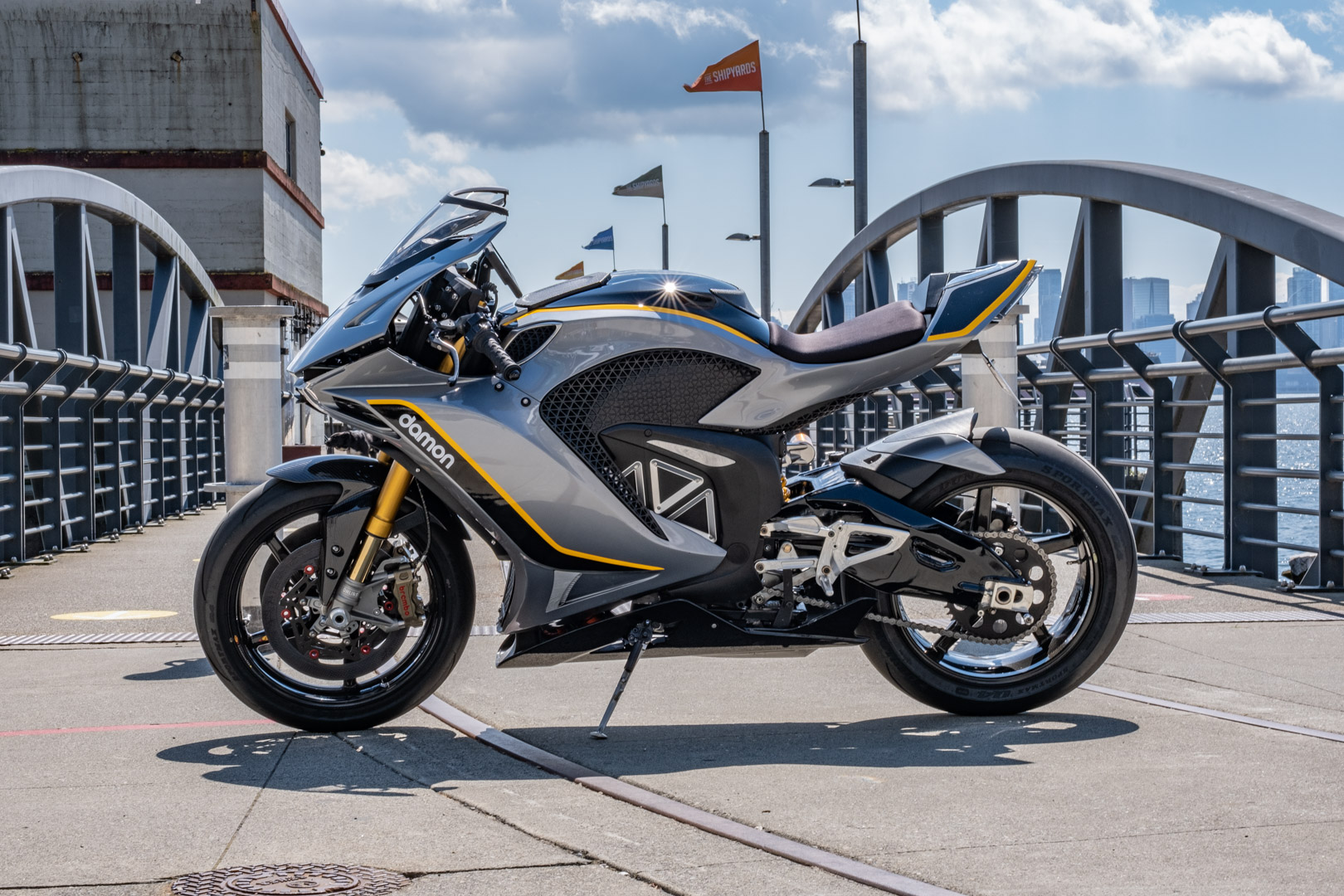 The team at Damon Motorcycles set out to engineer and develop a game-changing motorcycle that would not only affect the motorcycle rider directly but also indirectly affect the entire motorcycle industry, from ground-breaking engineering designs to the disruptive technologies they have created and implemented to allow their motorcycles to become a lot more than just a motorcycle. "The only way to bring a paradigm shift in motorcycle safety is through disruptive technology. At the core of our vision is hyperdrive"
Jay Giraud co-founded Damon Motorcycles with Dom Kwong in 2016 after suffering an unfortunate accident in Jakarta, it is at that moment that Jay recognized the need for advancements in technologies for the motorcycle space and began their journey to creating a game-changing product. When Damon Motorcycles and their team set out to create a motorcycle that could help reduce accidents, they recognized the faults of current motorcycles and the abilities new technologies possessed to help render these problems nonexistent, by utilizing AI technologies and motorcycle collision technologies they can create a fluid platform that allows the motorcycle to help the rider see accidents before they may see the accidents themselves.
Damon Motorcycles could have stopped producing AI technology that will help reduce accidents, but they chose to further engineer their electric motorcycle design by incorporating breakthrough battery technologies, motor technologies as well as chassis technologies. With a goal in mind of producing a well-rounded safety heavy performance motorcycle, Damon Motorcycles and their team pushed forwards into the most competitive motorcycle segment of them all, The Hyper sports segment, competing against the likes of Ducati, Yamaha, Aprilia, and Yamaha. This is so small feat for a motorcycle manufacturer to tackle safety technologies, performance technologies, electric drive train technologies all while starting a company from scratch but here we are writing an article on arguably one of the most disruptive motorcycles to come into the market in the last decade. *Cue the Damon Motorcycles fist bump*
Damon Motorcycle offers a range of performance models all based on the same chassis with varying performance and technologies. All of their current models in their line up used their patented technology "Hyperdrive", this is a one-stop-shop based "multi-variant powertrain" with models ranging from 85 kW to 150 kW, for you old school gassers that more than 200bhp that's not to mention the fact is has more than 235nm of torque which is completely unheard of in petrol-powered motorcycles in the hyper sports group… yes you read that right an electric motorcycle with over 200 bhp. Proof that implementing new technologies into old concepts will breathe fresh air into an old stale product. Aside from the astounding amount of power these motorcycles can produce they are also focusing heavily on weight reduction and taking a cue from the petrol industry by using the hyperdrive as a dual-purpose structural component thus allowing the motorcycle to drop a substantial amount of weight that would typically be accumulated from a corresponding frame.
Aside from the performance engineering built into their models, Daman motorcycles have focused heavily on safety and designed a well-rounded electronics package that helps make the operator more aware of their surroundings by alerting them both visually and audibly through a variety of alerts, the motorcycle stays aware of a 360 degree surrounding and has the 4k camera's front and rear on at all times as well as physical alerts built into the handlebars so even when you forget to check your back Damon Motorcycles has it for you.
Another interesting to note is the lack of comfort the hyper sport segment posses, with no current companies taking comfort into consideration as performance has always been the first consideration Damon Motorcycles and their team has created an adjustable on the fly system you can operate from your handlebars that allows you to choose between sport and commuter settings allowing the handlebars and rear sets to adjust accordingly so you can tuck and go at the track and sit up and relax for the long haul.