MotoGP eSports Battle Of The Greats
The first round of MotoGP eSport Global Series saw an exciting opening with two major names sharing a championship lead in a battle that will surely cement the online series for the year to come.
At the beginning of June, eleven gamers were chosen from various countries around the world to represent one of the eleven MotoGP teams in the Four-round series consisting of eight race events to determine the winner of the 2021 MotoGP eSport Championship.  Of those eleven competitors, Trast73 – the 2017 and 2018 MotoGP eSport champion – and Adriaan_26 – the reigning champion – were pole competitors taking first and second respectively.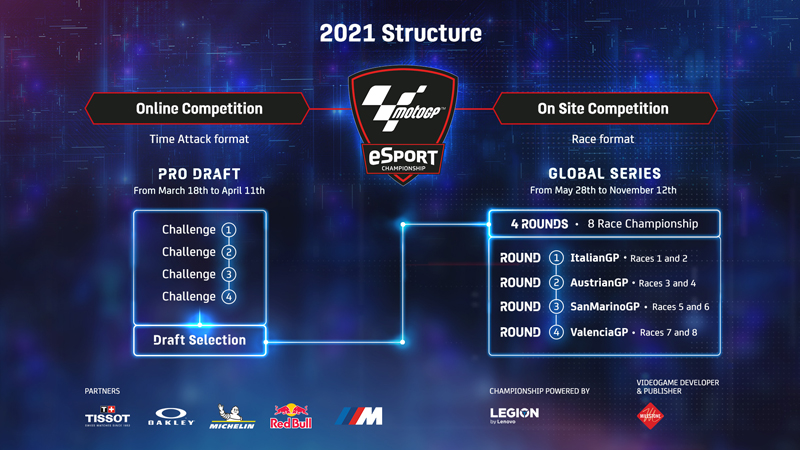 The commentary provided was equally as exciting with Jack Appleyard and Jack Gorst doing an excellent job keeping viewers aware and on the edge of their seats throughout the event despite all contenders being confined to their homes as a result of covid-19.
This season's first race took place around the memorable Algarve International Circuit, a first for the MotoGP eSport giant, with the next race scheduled to take place at the equally as memorable Autodromo Internazionale Del Mugello.
The 2019 eSport champion AndrewZh in partnership with Ducati/Lenovo set pole position for both races, defining this season's search for dominance after having a less than satisfactory 2020 season. Race one was a nail-biter from start to finish with an early contact made between Monster Energy Yamaha's Trast73 and Suzuki ECSTAR's Williams_Christian both in search of the lead, the scuffle resulted in an opening for the pack allowing a handful of other contenders through. The scuffles did not stop there, further contact was made when AndrewZh and Redbull KTM Factory Racing's Jack Hammer4658 tried to split their lines during turn one of the second lap, which resulted in an opening for Adriaan_26 and reigning MotoGP Champion Trast73 through. Trast73 and Adriaan_26 fought hard with Adriaan_26 coming ahead.
Both racers showed their history of competing against one another, reminiscent of their battles from the 2020 MotoGP eSport Global Series, Leaving viewers expecting an equally as exciting series. Adriaan_26 performed well per usual under relentless pressure applied by his long-time opponent Trast_73 coming out ahead by just a mere 0.402s. Meanwhile, the rest of the pack was in a war of their own, one of which was a rooky, LCR Honda Castrol eSport Teams' PieroRicciuti55, who managed to have an excellent performance placing third overall. Jack Hammer4658 managed a fourth place finish despite a crash on the second lap followed by AndrewZh in fifth place.
The second race proved to be similar this time with Trast73 getting the jump on the pack out of turn one. The race remained a tight and competitive pack throughout with Trast73 fighting off Adriaan_26 and AndrewZh with none of the 3 moving more than 1.5s apart from one another. Yamaha's Trast73 proved to be dominant having a flawless race finishing 0.713s ahead of Adriaan_26 followed by AndrewZh in 3rd place 1.3s behind. Drama for race #2 consisted of PieroRicciuti55 and Williams_Christian battling for fourth place with LCR Honda Castrol eSport taking fourth to get the extra two points.
Trast73 and Adriaan_26 finished the day tied for first place with a respective 45 points each, cementing their standings at the top of the Global Series standings. PieroRicciuti55 followed in third place with 29 points and AndrewZh in fourth with 27 points.
Race results
Race #1
1. Adriaan_26
2. Trast73 + 0.402
3. PieroRicciuti55 + 3.348
4. Jack Hammer4658 + 4.585
5. AndrewZh + 6.627
6. Williams_Cristian + 7.229
7. Sanshoqueen + 19.477
8. DarkBright + 26.807
9. MrTftw + 43.026
Race #2
1. Adriaan_26
2. Trast73 + 0.402
3. PieroRicciuti55 + 3.348
4. Jack Hammer4658 + 4.585
5. AndrewZh + 6.627
6. Williams_Cristian + 7.229
7. Sanshoqueen + 19.477
8. DarkBright + 26.807
9. MrTftw + 43.026
Velocifero Elevates Electric Scooters with a 200hp Speed Record Contender
Son of a former professional Ducati and Benelli racer, Alexander Tartarini, is set to follow his father's tracks and pursue speed records. Alexander will take on this challenge on his Velocifero 200hp electric scooter prototype at the iconic Monza circuit on Friday, June 30 – precisely 54 years after his father, Leopoldo Tartarini, made his attempt at the World Speed Records with a three-wheeled cycle car powered by a liquid-cooled CZ 250 engine.
Creator of the Velocifero brand, Alexander's career path in the motorcycle industry has, in many respects, paralleled his father's journey.
Leopoldo experienced a serious accident during the Motogiro d'Italia while competing for Ducati, an event that nearly resulted in the paralysis of both his legs. Following a lengthy recovery period, Leopoldo was able to walk and ride again, but he could not pass the rigorous health checks required for racing, leading to the end of his professional racing career.
As a result, he chose to undertake a global promotional tour on a Ducati, accompanied by his friend, Giorgio Monetti. This transformative journey inspired Leopoldo to become a manufacturer. He founded the firm Italammezeta in 1960, which ultimately evolved into the innovative Italjet brand, renowned for the creation of the Dragster scooter.
Now, Alexander's Velocifero scooter will blaze down the same track his father did, under the scrutiny of the Italian Motorcycle Federation timekeepers. They will be monitoring top speed, flying kilometre top speed, and zero to 62mph acceleration.
Alexander shared his thoughts saying, "I'm gearing up both physically and mentally to tackle this Record in the best possible way. I'm proud to emulate my father's initiative from 1969 at the same Monza circuit, albeit with an extraordinarily powerful electric Velocifero prototype. I want to extend special thanks to our sponsors Rydbatt, Jinyuxing, and Kangni who have been integral to making this Challenge possible."
Adding to this, he stated, "This challenge serves as the launchpad for a comprehensive program of events where our vehicles will prove their mettle on both the track and the road."
Marc Marquez, Repsol Honda Team Accident Recap
Repsol Honda's rider, Marc Marquez, withdrew from the German GP after a series of five crashes at the Sachsenring, with the last one resulting in a minor hand fracture. However, he is set to make a comeback at the upcoming round in Assen, aiming to "leave behind the challenging German weekend," as characterized by the team.
Marquez will be joined in the factory Honda team by Iker Lecuona, who steps in for the injured Joan Mir.
In a pre-weekend press release, Marquez stated, "I'm heading to Assen with the aim to leave behind the tough weekend in Germany. We have one more race before the summer break, and the goal is to collect extensive valuable data for our engineers to work with over the upcoming weeks. Our focus for the weekend is to stay calm and follow a well-defined plan."
Marquez has enjoyed success at Assen twice in the premier class – 2014 and 2018 – and has only missed the podium once in 2021, his most recent visit to the circuit.
Marquez's tough weekend in Germany started with a crash in FP2 as he pushed for a lap time to secure a spot in Q2, which resulted in a collision with Pramac's Johann Zarco exiting the pitlane.
Though both riders were unscathed, there was a brief standoff as Marquez laid the blame on Zarco.
On Saturday, Marquez faced three crashes across both qualifying sessions, ending up seventh on the grid. Despite a brief spell in fifth during the 15-lap sprint on the same day, multiple early warnings from his Honda made him slow down, dropping him to 11th place.
He later admitted that the risks he was taking didn't warrant the results, especially considering the crashes he had already experienced.
Marquez's fifth crash in Germany occurred during the 10-minute warm-up session on Sunday morning when he was thrown off his Honda at Turn 6.
LCR Honda will be without Alex Rins, who sustained a right leg fracture during the MotoGP Italian Grand Prix sprint race at Mugello. Honda test rider Stefan Bradl is slated to replace the former Suzuki rider.
Introducing the Alpinestars Supertech R10
Alpinestars, a stalwart in the field of technical riding gear, is stepping onto the road helmet scene with their latest creation – the Supertech R10. This marks the Italian company's first venture into producing a full-face road helmet in their six-decade history.
The Supertech R10 is a statement of Alpinestars' continued dedication to safety, aerodynamics, and comfort. The helmet – engineered to meet ECE 22.06, DOT, and FIM standards – brings forth a host of innovative features aimed at enhancing protection, vision, and user experience.
This top-tier road and race helmet will be unveiled next year, starting with a limited-edition run of 200 "Launch Edition" specials, before moving into full-scale production. While pricing details remain under wraps, it's expected to command a premium price point. Alpinestars also plans to release a range of sports touring, touring, and commuting helmets in the future.
Birth of the Alpinestars Supertech R10
The Supertech R10 was conceived and crafted over a span of five years in Alpinestars' Asolo R&D helmet department, which was established in 2011. The helmet incorporates technologies previously used in their motocross helmets, tested by Alpinestars' sponsored riders in 2018 and commercially available since 2019.
MotoGP legend Andrea Dovizioso also lent his expertise to the project. This high-performance helmet represents a clean break from tradition, fusing innovative design and state-of-the-art materials.
The R10's multi-layered composite shell is designed to absorb and dissipate impact force. It's comprised of a 3k carbon outer layer, followed by uni-directional carbon composite, aramid fibre, and fibreglass layers, all held together by an advanced epoxy resin – the same used for carbon race car chassis. The helmet also boasts collarbone-friendly lower edges, cushioned with soft rubber sections.
Inside the Supertech R10
Inside the protective shell lies an EPS liner composed of eight sections with six different densities, each positioned where it's needed most. This liner is coated to allow the fabric interior to slide, thereby reducing rotational acceleration to the rider's head during an impact – a feature akin to a MIPS system. Additionally, the helmet comes with cheek pads that have an emergency release system and a strap secured by robust stainless steel DD rings.
Maximum Strength and Fit
For enhanced safety, the visor is secured with a durable metal lock, and the quick-release visor mechanism is also metal for optimal strength. The helmet comes in four shell sizes (XS-S, M, L, XL-XXL) to ensure the best fit and weight.
The S-R10's design took cues from racing cycle helmets and was refined using Computational Fluid Dynamics simulations and extensive wind tunnel testing with Alpinestars' Moto2 machine. The result is a teardrop profile that reduces drag and enhances stability at high speeds.
First Impressions of the Supertech R10
Based on first impressions at the Vairano circuit near Milan, the Supertech R10 stands out for its exceptional ventilation and lightweight feel. It glides effortlessly through the wind, minimizing buffeting and offering superb vision. The visor is easy to change, though getting used to the robust visor lock might take some time.
Features such as the 'A-Head' for fine-tuning the fit add to the overall comfort, and the helmet seems to have an impressive build and finish. Stay tuned for a full review in the coming months as we put the Supertech R10 through its paces.
Key Features of the Alpinestars Supertech R10
Excellent Airflow: The helmet comes with passive intake and exhaust vents, adjustable top and chin vents, and extra chin vents under a removable rubber bung, ensuring optimum cooling.
Comfort-Oriented Design: The helmet features a soft, removable, and washable fabric lining. It comes with a removable chin curtain, wind, and breath protectors. Cheek pads are tailored to accommodate glasses and a hydration tube, adding to rider comfort.
Advanced Adjustment: Alpinestars' 'A-Head System' allows for three-stage adjustment of the interior crown pad. This enables riders to modify the helmet's height and angle for optimal vision.
Extended Field of Vision: The helmet's design offers a panoramic view with 220-degrees of lateral and 57-degrees of vertical vision. The lower edges feature cutouts to further enhance rear and cornering visibility.
Innovative Visor Tech: The ECE 2206 visor comes with an anti-scratch and anti-fog coating. Its thickness varies – 2.6mm in the middle and 1.6mm on the side – for crystal clear vision. The helmet comes with a Pinlock and a tear-off.
Alpinestars has demonstrated a remarkable entry into the full-face road helmet segment with the Supertech R10. With its innovative design and state-of-the-art features, the helmet is set to provide riders with exceptional protection, comfort, and performance. We eagerly await further testing and a comprehensive review of this trailblazing helmet in the upcoming months.