MotoGP eSports Battle Of The Greats
The first round of MotoGP eSport Global Series saw an exciting opening with two major names sharing a championship lead in a battle that will surely cement the online series for the year to come.
At the beginning of June, eleven gamers were chosen from various countries around the world to represent one of the eleven MotoGP teams in the Four-round series consisting of eight race events to determine the winner of the 2021 MotoGP eSport Championship.  Of those eleven competitors, Trast73 – the 2017 and 2018 MotoGP eSport champion – and Adriaan_26 – the reigning champion – were pole competitors taking first and second respectively.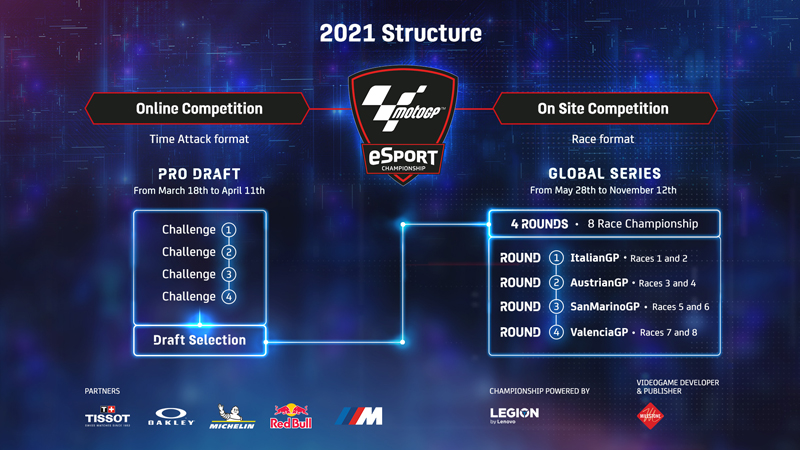 The commentary provided was equally as exciting with Jack Appleyard and Jack Gorst doing an excellent job keeping viewers aware and on the edge of their seats throughout the event despite all contenders being confined to their homes as a result of covid-19.
This season's first race took place around the memorable Algarve International Circuit, a first for the MotoGP eSport giant, with the next race scheduled to take place at the equally as memorable Autodromo Internazionale Del Mugello.
The 2019 eSport champion AndrewZh in partnership with Ducati/Lenovo set pole position for both races, defining this season's search for dominance after having a less than satisfactory 2020 season. Race one was a nail-biter from start to finish with an early contact made between Monster Energy Yamaha's Trast73 and Suzuki ECSTAR's Williams_Christian both in search of the lead, the scuffle resulted in an opening for the pack allowing a handful of other contenders through. The scuffles did not stop there, further contact was made when AndrewZh and Redbull KTM Factory Racing's Jack Hammer4658 tried to split their lines during turn one of the second lap, which resulted in an opening for Adriaan_26 and reigning MotoGP Champion Trast73 through. Trast73 and Adriaan_26 fought hard with Adriaan_26 coming ahead.
Both racers showed their history of competing against one another, reminiscent of their battles from the 2020 MotoGP eSport Global Series, Leaving viewers expecting an equally as exciting series. Adriaan_26 performed well per usual under relentless pressure applied by his long-time opponent Trast_73 coming out ahead by just a mere 0.402s. Meanwhile, the rest of the pack was in a war of their own, one of which was a rooky, LCR Honda Castrol eSport Teams' PieroRicciuti55, who managed to have an excellent performance placing third overall. Jack Hammer4658 managed a fourth place finish despite a crash on the second lap followed by AndrewZh in fifth place.
The second race proved to be similar this time with Trast73 getting the jump on the pack out of turn one. The race remained a tight and competitive pack throughout with Trast73 fighting off Adriaan_26 and AndrewZh with none of the 3 moving more than 1.5s apart from one another. Yamaha's Trast73 proved to be dominant having a flawless race finishing 0.713s ahead of Adriaan_26 followed by AndrewZh in 3rd place 1.3s behind. Drama for race #2 consisted of PieroRicciuti55 and Williams_Christian battling for fourth place with LCR Honda Castrol eSport taking fourth to get the extra two points.
Trast73 and Adriaan_26 finished the day tied for first place with a respective 45 points each, cementing their standings at the top of the Global Series standings. PieroRicciuti55 followed in third place with 29 points and AndrewZh in fourth with 27 points.
Race results
Race #1
1. Adriaan_26
2. Trast73 + 0.402
3. PieroRicciuti55 + 3.348
4. Jack Hammer4658 + 4.585
5. AndrewZh + 6.627
6. Williams_Cristian + 7.229
7. Sanshoqueen + 19.477
8. DarkBright + 26.807
9. MrTftw + 43.026
Race #2
1. Adriaan_26
2. Trast73 + 0.402
3. PieroRicciuti55 + 3.348
4. Jack Hammer4658 + 4.585
5. AndrewZh + 6.627
6. Williams_Cristian + 7.229
7. Sanshoqueen + 19.477
8. DarkBright + 26.807
9. MrTftw + 43.026